How To Create A Skincare Routine Starter Kit
DISCLAIMER
This blog does not intend to provide diagnosis... Read More

This blog does not intend to provide diagnosis, treatment, or medical advice. Read more. The content provided on this blog is for informational purposes only. Please consult with a physician or other healthcare professional regarding any medical or health-related diagnosis or treatment options. Information on this blog should not be considered as a substitute for advice from a healthcare professional. The claims made about specific products throughout this blog are not approved to diagnose, treat, cure, or prevent disease.
In this article: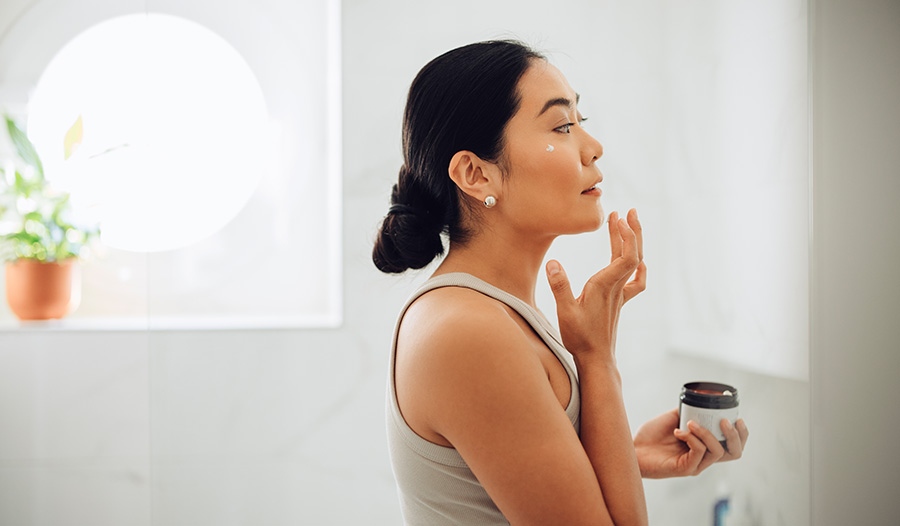 Moment of truth: I'm a freelance makeup artist who doesn't have a regimented skincare routine. Phew! There, I said it. I know it's completely taboo for me considering I'm constantly recommending products and routines to others, but I've just never been a routine gal. Well, until now that is…
Enter age 40. Ah yes, the new 30, right? Sigh, tell that to my under eyes. Oh yeah, let's not forget to add in that I'm pregnant for the first time—yay!—well, you can see where I'm going with all of this. With my hormones completely out of whack, my skin is literally begging me for daily love and nourishment, and let's face it—if you don't answer your skin's call, it will start to quickly rear its ugly head, prenatal vitamins or not.
So, where does one go from here? Invest in one line of products and pray they work? Mix it up with different products that are the best at addressing different problems? Put myself through trial and error to see what I love and what I don't? Naturally I went with the latter, mainly because, well, that's my job as someone who recommends what to put on your beautiful selves! And I will tell you all about it.
But first up, a bittersweet aside for me. I am a HUGE believer in retinol, folks. I can't stress the benefits enough: from reducing fine lines and wrinkles by increasing collagen production, to the fact that it fades age spots while improving the color of your skin—it's most definitely a not-so-secret weapon. If I could drench myself in it from head to toe daily, I would do that. And I used to, but here is a teeny tiny fact: retinol is no bueno for us expecting mamas. So, I had to put my absolute favorite cleanser in the back of my medicine cabinet. Until this baby makes its debut, see you later PrescriptSkin Retinol Cleanser. Trust that I'll be thinking of you until the day we reunite…and it WILL feel so good!
In the meantime, I went to test out seven different products and here's a description of how plus when I used them…plus some thoughts on each.
My New Skincare Routine
So here's how my new routine has lined up:
Daily Use

Cleanser (to wash away the day or night)

Eye cream (to keep me looking bright-eyed and ready to pretend to take on the day)

Vitamin C Serum (for the instant youthful glow and tightness)

Vitamin C Moisturizer (to keep my skin dewy, quenched, and nourished)

Collagen Peptides (to start my beauty routine from the inside out)

Twice A Week

Exfoliate (you gotta get rid of that layer of dead skin)

Firming mask (I did say I just hit 40 right?)
On to the products…(drum roll please…)
Start With Cleansing and Eye Cream
Step 1: Cleanser (AM & PM Use). I highly recommend Radiant Seoul's Hydrating Bubble Cleansing Oil. While the bottle looks small, what's inside certainly is not! This lightweight foaming oil-based cleanser literally dissolves my makeup away. You take a small amount, rub it onto your dry skin, dip your hands in water and then massage away the grime, dirt, oils and more. Plus, what I love most is that it leaves my skin feeling so smooth and hydrated.
Step 2: Eye Cream (PM Use). Yes, my eyes scream for eye cream! And my new fav is Idealove Eye See You(th) Super Ferment Eye Cream – and not just cuz the name is witty, just like me. This non-greasy gem of a product is packed with peptides, ceramides, and hyaluronic acid—wait, what's that mean? Well, those are the goods that help to keep your eyes firm, moisturized and holding on to their elasticity (meaning their youth!). Winner, winner. I like to keep this in my fridge, the cool cream feels great under your eyes after a long day. And I gently tap it on under my eyes and then rub it in with the lightest touch possible—I find that using my ring finger is the best for this.
Move Onto Serum & Moisturizer
Step 3: Vitamin C Serum (AM & PM Use). Sunshine in a bottle. This stuff is just good for the skin's soul. Why? Well, it helps to brighten and lighten the skin, hydrates, absorbs super quick and reduces the appearance of fine lines and wrinkles … Now you're asking yourself why you're not using it, right? Don't wait another day. I've recently switched to using the Serumdipity Age Refining Vitamin C Facial Serum by Azelique that is superb! It feels silky in your hands. Applies so nicely and absorbs even better … 9 out of 10.
Step 4: Moisturizer (AM & PM Use). Probably one of the most important steps, in addition to step 1, is to moisturize your skin daily. Your skin is your body's largest organ – don't you think it deserves to be nourished? The answer is yes. Investing in a good moisturizer is basically like you feeding your skin filet mignon and wild-caught salmon every day. Sounds worth it to me! PrescriptSkin's Vitamin C Moisturizer is top-notch food for your face. This moisturizer is loaded with goodies like cucumber extract, lemon peel, witch hazel, glycerin and so much more. A little goes a long way with this product, the size of a dime is just right. This pairs perfectly with my vitamin C serum in step 3, in that it helps to amplify my skin's brightness, tightness, hydration and honestly, it just leaves my skin feeling super revitalized. Definitely my go-to moisturizer.
Don't Forget To Nourish From The Inside Out
Step 5: Collagen Peptides. Welcome to the team you little powder-y game changer that I love so much! I firmly believe the good old saying "you are what you eat" but Holy Mother of Pearl! I never thought I'd be addicted to the saying. This is honestly the step in my routine I am most grateful for adding in. Solumeve's Hydrolyzed Marine Collagen Peptide With Cocoa is simply incredible. This product comes with a handy little scooper—I throw two scoops into my morning smoothie, and it's delightful. It has a nice light chocolate taste that isn't sweet or super overwhelming (that's because it's made of organic cocoa powder and added sugars). It's gluten-free, non-GMO, soy-free – yes. yes. yes. I've been using it for two weeks no and have already noticed a difference in my hair, skin, and nails – strength and shine across the board. Plus, I feel really good about nourishing my body (and beauty) from within. One quick callout, this product does contain fish, so steer clear if you are allergic.
Treat Yourself Weekly
Rounding out my routine is my two-step, twice-weekly powerhouse duo – exfoliator and firming face mask, which I do at night. My staples for this are Sympli Beautiful's Coconut Smoothing Micro Polish and Radiant Seoul Beauty's Firming Sheet Masks.
These two products work really, really well together. I start with the Coconut Smoothing Micro Polish. Put some on your face, wet your hands and use small circular motions across your face, concentrating on the sides of your nose, forehead, chin and anywhere you might get a bit dry. The reason I like this product is because the grit it has is, you guessed it, micro! Which means it's not harsh on the skin. Plus, it has a light pleasant smell to it and leaves my skin VERY smooth. Once I'm done with that, I place on my firming sheet mask, which feels cool and fantastic on your face after all that dead skin is gone. It's really easy to apply and leaves behind some great residual product that you can massage directly into your skin after – you immediately notice a firm appearance to your skin. I usually let that end that evening's skincare routine. You can also use too much product on your skin and clog your pores, so be careful not to overdo it.
Be Realistic About Your Time for Skincare
All in all, this wild child has finally bitten the bullet and settled down with a skincare routine and regimen she not only loves but can commit to and keep up with—which is one really important fact in skincare: it's okay to be realistic with yourself and the time you have to devote to your skin. If you're a minimalist, find a two- or three-step routine that works for you. If you like a different product for each area of your face and body, have at it! There's no right or wrong answer here—there's only finding the right routine and products for you.