Get Ready For Fall Eye Makeup Tutorial
DISCLAIMER
This blog has not been approved by your local health department and is not intended to provide diagnosis, treatment, or medical advice. Read More

This blog has not been approved by your local health department and is not intended to provide diagnosis, treatment, or medical advice. The content provided on this blog is for informational purposes only. Please consult with a physician or other healthcare professional regarding any medical or health-related diagnosis or treatment options. Information on this blog should not be considered as a substitute for advice from a healthcare professional. The claims made about specific products throughout this blog are not approved to diagnose, treat, cure, or prevent disease.
In this article: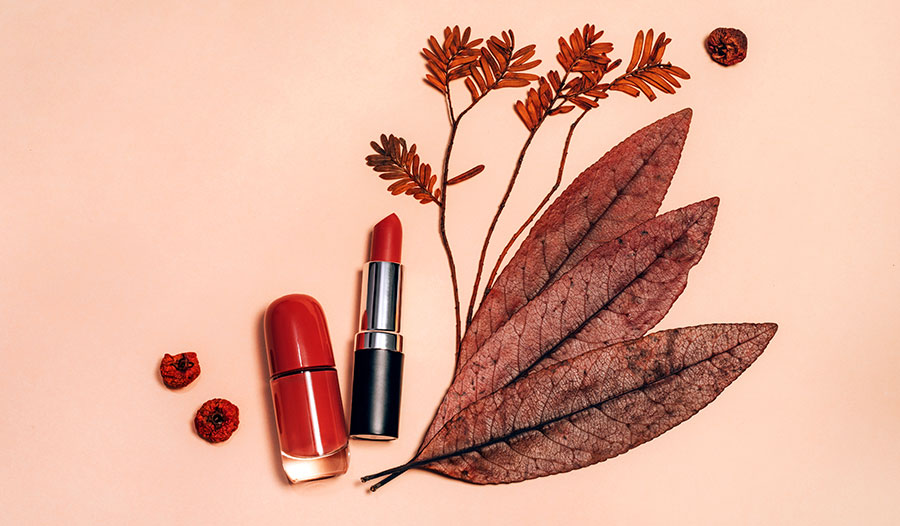 Fall is here! I have set up an easy-to-follow, 90s supermodel eyeshadow tutorial for you to follow that is bound to not only get you compliments, but also make you your own pro makeup artist. This look takes a modern spin on a classic look and can work for literally anyone. It will be able to go from a fall friend brunch, to a holiday dinner. No matter the occasion your eyes will pop. This simple fall look is meant to add focus, lift, and amplify the overall beauty of your already gorgeous eyes.
Here are the products you'll need: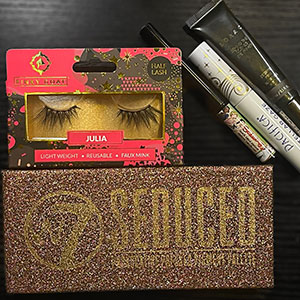 Let's get into it! Grab your brushes.
Step 1: Prime Your Lids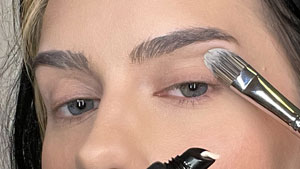 Eye primer is a very important step to any eye look. Especially if you want it to wear all day, not budge, smudge, or lose pigmentation. Have you ever put eyeshadow on and looked in the mirror at the end of the day and thought "Where did all my eye makeup go?" This is what stops that from happening.
The Lorac Behind the Scenes Eye Primer is worth every penny. Squeeze out some product the size of a rice grain and press it into your eyelids. I'm using a flat brush photographed here, but you can also just use the pad of your finger to gently press the eye primer in from the lash line to right underneath your eyebrow.
Pro tip: Before applying under eye concealer, place a bit of eye primer down to help prevent creases and the appearance of fine lines/wrinkles. Trust me, this is my favorite hack ever.
Step 2: Set Down The Primer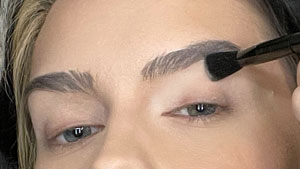 Another easy step—take a skin tone shade of eyeshadow and lightly dust the shadow over the places when you put eye primer. I am using the W7 Seduced Provocative Pressed Pigment Palette shade Lace to do so.
Step 3: Build the Shape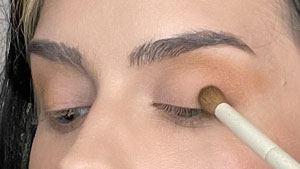 Now we are going to build the shape of our eyeshadow look. Taking the shade Silk from the W7 palette and a short bristle blending brush like the one in the photo, place the shadow in a V shape. Take your time with this step. You are laying down the groundwork here. Map out that V shape, and don't be afraid to play with it while practicing. This is your transition shade, so you can blend it further out to your temples—you can even blend it out closer to your brow bone. I have mine blended out closer to my temple to lift my eyes up.
Step 4: The Odd Step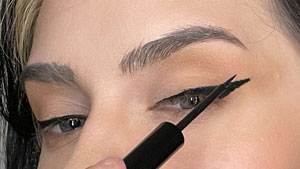 Trust me on this one! Take theBalm Cosmetics Schwing Liquid Eyeliner in Black, and place a small, winged line. Go from your lower lash line to create the baseline, then up and out! Then, with your eyes softly open, face the point of the felt tip towards your temple and connect your baseline to your lash line. Once connected to your lash line, create a small line going inwards.
Pro tip: Hold the felt tip liner parallel to the ground, anchor your elbow on a countertop or table, and then softly press the felt tip into your lash line. This technique gets you a crisp flat line every time.
Step 5: Adding Depth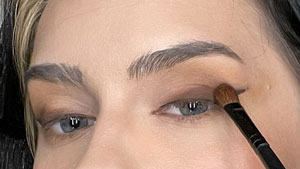 Take the shade Vamp from the W7 palette, and a fluffy shader brush and press that shadow into the winged liner. You are placing it onto the eyeliner as well as a little bit above the eyeliner. Build the pigment up, and don't load too much of the eyeshadow onto your brush at one time. This avoids fall out.
Step 6: Create Balance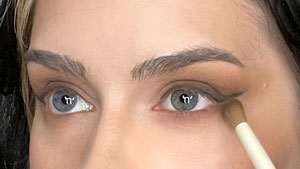 Take the same shade on a smaller blending brush and dust a bit of that color across your lower lash line. This will balance out your eye look. Much like gravity, what goes up must come down.
Step 7: Smoke The Outer Corner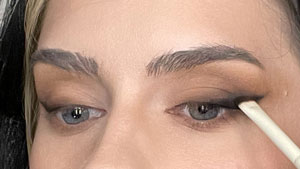 With a small smudge brush, pick up a bit of the black shadow from the W7 palette, shade Fishnets, and focus that black shadow on the outer corner of the eyeliner and move your brush in a tiny V formation to shade it in appropriately.
Step 8: Brighten The Inner Corners Up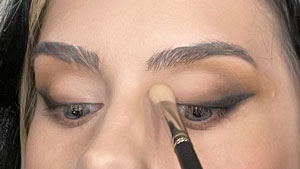 Going back to our first shade, Lace, take that on a flatter fluffy brush and sweep it across the eyeliner area. Moving from your inner corner near your tear duct to 2/3 of the way into your eyes. This will immediately brighten up the eyes, and soften the overall look.
Pro tip: If you feel like your shadow edges aren't as blended as you would like, take a clean fluffy shadow brush and no product at all and blend over the edges of your eye shadow look. Works like a charm every time.
Step 9: Brush On Mascara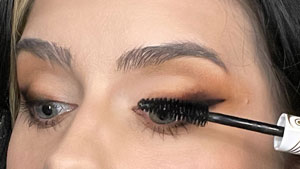 I used the Pacifica Stellar Gaze Length & Strength Mineral Mascara for this look. This mascara adds the perfect amount of volume, and length without smudging or transferring anywhere other than your lashes. It also doesn't irritate your eyes!
Optional Step: Add Glam With Lashes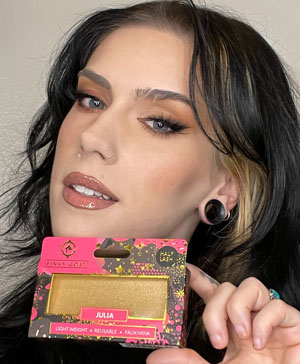 For a little extra drama if you're feeling extra like me, use a half lash and place it 2/3 of the way onto your lash line, then connect it to the outer corner of your lash line. I used the Pinky Goat Julia Lightweight False Eyelashes. If you are new to the world of lashes, these will become your best friend. They feel like you have nothing on but add the perfect amount of pop to your eye look.
Below there is an example of the look with no lashes, and with lashes. Both gorgeous!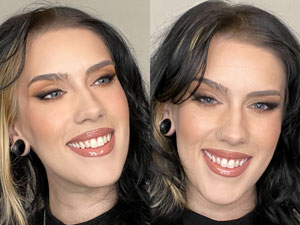 Finish up your look with the rest of your makeup routine. I recommend a soft terracotta blush, and a neutral lip shade plus gloss.
These products are all must-haves. If you're looking to improve your makeup artistry, having these on hand will keep the inspiration flowing. They can be used together to create a multitude of looks, or separately to create a quick everyday look.
And don't forget to practice, practice, practice. The most important rule, though? Don't be afraid to try new things with your makeup look. You may be surprised at the amount of talent you have, and you'll never know if you don't try.